Doing good and giving back never goes out of style!
Upper Highway Baby Home
---
Blockhouse Shutters partnered with our long-standing agent Sunflex to assist an organization that has been giving back to the community for many years. Kerry and Gary from Upper Highway Baby Home is a true inspiration for all, and we could not be more delighted to contribute to such an inspiring organization. Kerry tells us more about their Baby Home and how Blockhouse Shutters assisted in enhancing their day-to-day life.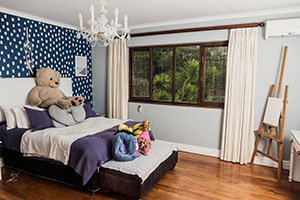 In a nutshell, tell us about Upper Highway Baby Home and what you do? When and how you were established?
We look after the country's abandoned and most vulnerable babies. Babies come to us after being abandoned or placed for adoption due to a birth mother not being able to properly care for the baby. We do this on a full-time basis and take care of all the babies' needs until they are matched with forever families and officially adopted. We care for the babies in an extension to our family home that we have had for 12 years.
Both Gary and Kerry are registered foster parents and have 3 children of their own (2 biological aged 22 and 19 and an adopted daughter of 12years). The family has always been involved with caring for the vulnerable and started the facility in January 2019 and have been operating at full capacity from February 2019.
How many babies do you facilitate at your Baby Home?
12 in our house (at any time) and 34 in the community.
Taking care and nurturing the babies would certainly keep your day busy and full. What does a usual "day in the life" look like?
Our days are very busy. We are up early - everyone has a nappy change and early morning bottle in their cots and ease into the day with some quiet time while playing with fluffy toys or listening to cot mobiles. Then it is up for quick playtime before morning bath and breakfast. After this we head down to the play area outside for lots of active fun and the smaller babies have a nap under the trees. Snack is served at 10:00 and we do structured play until 11:45, whereafter everyone is prepped for lunch. After lunch and nap time, the babies read books and gets cuddled until everyone is up then we head out again for ball skills and bike time before a picnic and snack at 15:00. At 16:00 we get things ready for nighttime bath and dinner. The babies enjoy indoor play after bath which always involves at least an hour of an exciting dance party in the media room and they are usually in bed by 18:45pm. We then eat our dinner and are usually fast asleep by 20:30.
Tell us why you were interested in shutters and not another type of window dressing?
Firstly, we needed shutters for the Neonatal area and bathroom as this must be germ free zone. Secondly, it offers light control and enhances the atmosphere of the room easily so we can use these for relaxation for incoming babies. The NICO bathroom is a steam room for babies that battle with breathing. We always make bath time a relaxing experience and it gives us the opportunity to check that every baby is doing well and has been checked from top to toe, just in case something is not right.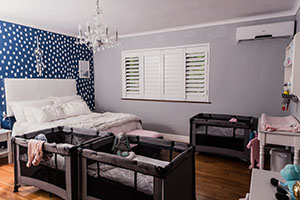 Why Blockhouse Shutters?
After our research we knew they were the best, however we needed funding and decided to take a chance and ask for help.
By all accounts they have the best product with the best service, and they are lockable which is really comforting for the international volunteers in the volunteer room. We can have proper ventilation and still feel safe. They look amazing.
Which rooms did you choose for the shutters and what was your reasoning behind it?
NICU bedroom – for neonatal cases so that it can be kept germ free, especially for our most vulnerable babies.
NEONATAL bathroom – so that we can use the steamer that have been provided and lock things up quickly. We can also wipe them down and quickly create a steam room or relaxing environment for babies battling with breathing issues or needing to have their first baths.
A good sleeping routine is essential for babies and children. Has the light and privacy control that the shutters offer been helpful?
It is amazing. Light is the biggest sleep stimulator for our babies and is a critical part of sleep training for all. Day time naps are now perfect, and we have happy well rested babies.
Would you say that Blockhouse Shutters have enhanced the way of living in your Baby Home? If yes, in what way?
Completely, we have beautiful functional areas that are easy to operate and a dream to keep clean. Every parent with a baby wants this and we have 12 babies therefore it is instrumental in our lives. Thank you so much!
Were you satisfied throughout the process, including service and installation?
100%! Everyone from the Managing Director to the people who came and measured up, photographers, installers, everyone were just amazing – excellent, efficient service and neat and tidy. They always advised well in advance when they would be here. Then arrived exactly on time and executed very carefully and professionally.