The Lockdown Showdown Winner
Jozanne Louw
---
After some fantastic entries, Jozanne Louw from Durbanville was the deserving winner of our Lockdown Showdown Promo. She shares her vision and how that idea came to life with Blockhouse Security Shutters!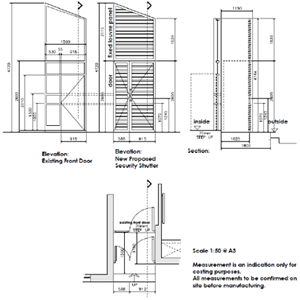 Tell us more about the background of your house?
We have a classic 1970's suburban house, which still has the original yellow glass. This house has loads of character and charm! It is one of a kind.
Which opening in your house required shutters?
The front door entrance, as we also believe it is the heart of our house. We still had a security gate at the front door, which was installed in the early 1990's, and as you can imagine, it was time for an upgrade!
What were your requirements?
We were looking for a subtle solution that will tie into the design of the house, but also uplift and modernize the front façade of our house. It had to be secure as we do not have a boundary wall on the street and it also needs to be able to open wider than the security gate that we had. It was very important to us that we would still have an outside view of the trees, while the natural sunlight beams through.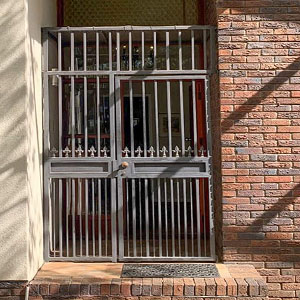 Why security shutters?
We wanted an option that gives us the security and privacy we needed, but also allows us to enjoy the connection to the street and community. Blockhouse Security Shutters gave us exactly that! We are now able to enjoy the summer breeze and natural light, while not compromising on our safety to do so.
Were you satisfied with the range of colors that were available and what made you decide on the color charcoal?
We chose the Charcoal because it was the darkest of the 5 available colours. The idea was that the dark colour should blend in with the colour of the dark glass in the background. The newly renovated Garage doors are also charcoal, so it all ties nicely together.
Would you say that Blockhouse Security Shutters has enhanced your day to day life?
We seldom used our front door and it was always restrictive and uninviting for guests. Because the door locks and unlocks easily, is lightweight and does not make a banging noise we now use it every day.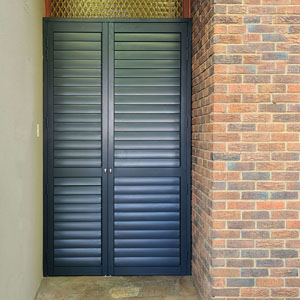 At night we close the shutters so that we have more privacy.
Would you recommend Blockhouse Shutters to your family and friends?
Absolutely! I can also recommend it to my residential and commercial clients.
Is there anything you would like to end off with?
We always feel we need to make big changes to our homes or properties, but sometimes it is the small things that makes the biggest difference in your home. Dream big, but don't let it deter you to start with smaller things that really matters.
In lockdown we spent so much time at home, we originally thought we would need to build a boundary wall, but with the new security shutter, we quite like the idea that our house remains part of the street and neighborhood.